Featuring Local News

Services




Directions
Trinidad's airport, Piarco International Airport, is about 32km (20mi) southeast of the city of Port of Spain, about a US$20 taxi ride. Allow some travel time depending on the time of the day. Have extra time when going to Port of Spain during the morning hours, and leaving to the airport in the evening hours.
Parking
Sufficient short and long term parking is located in front of the terminal building. The fees for parking are:
TT$ 5.00 (US$ 0.80) per hour (1-Mar-2003) and TT$ 36.00 (US$ 5.70) per day (8-May-2012)
Note
There is a "Departure Tax" of TT$ 100 (200 from 1-June-2012) (about US$ 16 (US$ 32 from 1-June-2012)) for all passengers leaving T&T. The Tax is included in your ticket price.

The new airport was opened in May 2001.
Maps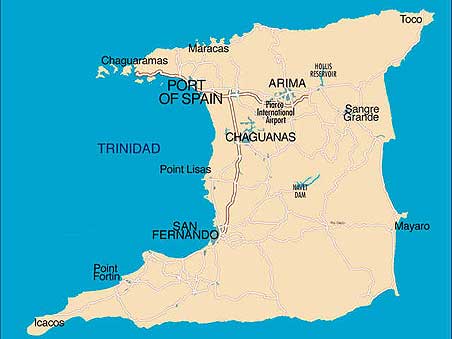 Sep-2013
JetBlue arrives in Trinidad and Tobago
The nonstop daily flight between Piarco and New York's JFK will start February 24, 2014. On May 1 Fort Lauderdale will be added to the schedule.

Apr-2012
Effective June 1, 2012, the Passenger Service Charge (formerly Departure Tax) will be increased by 100%, from TT$ 100 to TT$200. The charge is included in the ticket price.
Return airfare between Trinidad and Tobago:
TT$ 300 (US$48)
We are not the official website of the airport.
Free Wireless Internet Hotspot at terminal available